With the cancellation of many fund raising events this year, its great to see so many of you still finding ways to raise funds for Vasculitis UK.
One of those events was the Great North Run, where there should have been 20 of us pounding the roads of Newcastle to South Shields. With the event cancelled there was the opportunity for a Virtual Great North Run.
One of our fundraisers Sally Rawlins decided to complete the challenge, and in her own words………
I was diagnosed was MPA Christmas 2018 with kidney involvement. When I was first diagnosed I could hardly walk never mind run and thought I would never get back to it as I was a keen runner pre diagnosis.
I was really pleased to get a place in the Great North Run for Vasculitis UK but sadly this was not to be. This would have been the 40th year of the GNR and to celebrate this a challenge was launched to run 40 runs over 78 days. Due to shielding I had not been out running very much but decided I would take this up and set the alarm very early to be up and back before anyone else was about .I managed to run 217 miles during July and August. This helped towards training for the Virtual Great North Run that I completed on 13th September. It was a hot day and I was pleased to finish in 2.18 hours.
Sadly due to Covid 19 I couldn't have a big fundraising event but did manage a socially distanced afternoon tea in my garden to boost my fundraising efforts for our charity.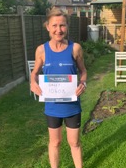 So far Sally has raised £828.00 for V-UK, if you would like to donate please see the link below.
https://www.justgiving.com/fundraising/Sally-Rawlins31?utm_source=Sharethis&utm_medium=fundraising&utm_content=Sally-Rawlins31&utm_campaign=pfp-email&utm_term=f2212e61791a4336bd04feef53764e73.
Next year Sally is hoping to line up with 50,000 other runners in Newcastle to complete the Great North Run 2021.
Sally, V-UK will be with you all the way. Congratulations.