Memories and recollections of the 17th International Vasculitis Conference and Vasculitis Patient Symposium 2015
The 17th International Vasculitis Workshop "Vasculitis 2015" was held in London. To mark the occasion, Vasculitis UK with support from the VF, PMRGCA, and the LCTF hosted a "Vasculitis Patient Symposium".
Vasculitis 2015
The Vasculitis 2015 Workshop was a multidisciplinary and multiprofessional conference, and importantly included contributions from patients. The workshop gave all 500+ medical professionals who attended, the opportunity to hear about the latest advances in the field of vasculitis, and to network with other healthcare professionals and scientists. This Vasculitis Workshop is a bi-annual event and the next workshop in 2021 will be held in Dublin.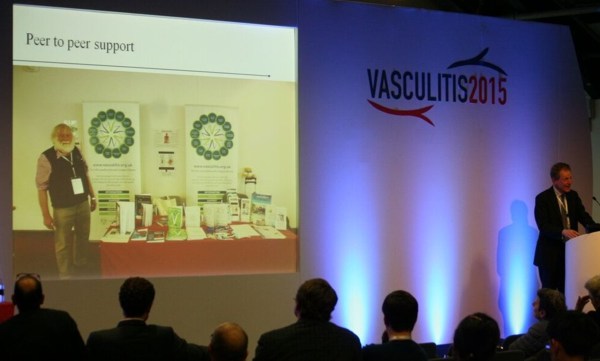 John -VUK, Peter-Netherlands Vasculitis Support

Dr Mike Venning with Kate Gilbert Chairman of PMRGCA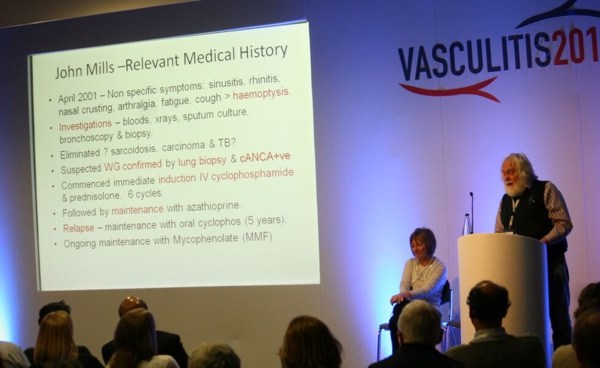 Winston the Vasculits Awareness Bear supporting the Symposium

John Mills: Chairman of Vasculitis UK and Patient Representative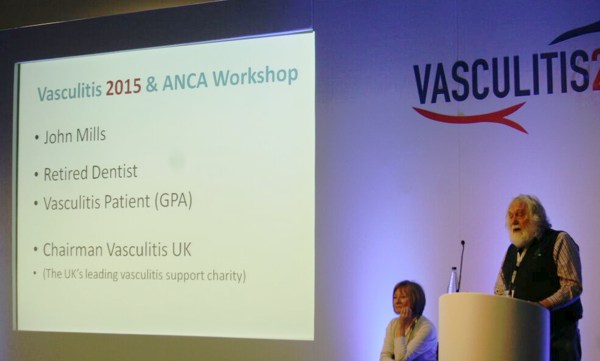 Vasculitis Patient Symposium 2015
This is the first time such an event has been run alongside the international medical conference. This was a unique opportunity for people with vasculitis and their family members to meet others from around the UK to discuss problems, share experiences and interact with some of the top vasculitis experts from around the world.