The Trust was originally set up in 1992, by the family and friends of Stuart Strange. Stuart died in his late 20's from the complications of Wegener's Granulomatosis.

During the time Stuart spent in Papworth hospital he started to raise funds for vasculitis patients. Following Stuart's death his sister Sue and his wife Rachel decided they would carry on with the work Stuart had started and vowed do everything they could to help other victims of this devastating disease which, until Stuart was diagnosed, they'd previously never heard of. There had been no help for the family when Stuart died and Sue and Rachel wanted to ensure that if they could only give one other person some degree of comfort it was going to be worth it.
A support group was started and this received charity status in April 1993. Three years later sufficient money had been raised to pay one-third of the £50,000 needed for research into the disease by Dr Martin Lockwood's team at Addenbrookes Hospital in Cambridge. At the fifth anniversary of the Trust being set up there were over 500 Members – a remarkable achievement by any standards.
Over the years membership; has increased and the reins of the Trust have been in the capable hands of other Trustees whose aims are just as they were originally – to help and support you the vasculitis patient and your family and friends.
Vasculitis UK 2009 -2023
John Mills signed up to support the SSVT charity as a trustee in 2006. But at the 2009 AGM meeting, John was appointed as chair on the presumption, due to lack of support, that he would be a reliable person to wind up the charity & properly dispose of its few assets.
Faced with this, John and his wife Susan decided that despite the lack of recent support , the SSVT did perform a valuable service in providing core information for those unfortunate enough to have contracted vasculitis, and for their confused families and dependants.
Their own experience had taught them how being diagnosed with a rare disease can leave one completely lost and bewildered – a scary experience.  They found that doctors and other health care professionals are, themselves, not very knowledgeable about many rare diseases – after all there are 7,000 rare diseases and no doctor has comprehensive knowledge and understanding of more than a few of these rare diseases.
The impact of a chronic illness on personal of family life can be devastating – leading to job loss which in turn can result in loss of or breakup of the family home leading to family breakup.  Thus many in this situation need both emotional support  and advice advice on claiming benefits. 
During 2011 it was decided that the name of the Trust be changed to "Vasculitis UK". However we still retain our links with the past and Lillian Strange, Stuart's mother, is still our Lifelong President.
Vasculitis UK is about teamwork – a small group of enthusiastic volunteers, all of whom have vasculitis, or live with someone who does.
Vasculitis comprises a group of 20 rare auto-immune diseases which are quite different in character, usually treated by nephrologists or rheumatologists using powerful immune suppressing drugs.
All age groups can be affected in different ways by different types of vasculitis– from Kawasaki disease which affects infants & the new born to Giant Cell Arteritis mainly affecting the over 60's.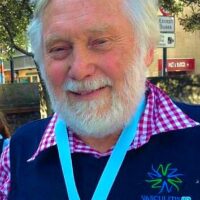 John Mills was awarded the MBE for his services for rare diseases through his voluntary work for Vasculitis UK in the New Years Honours 2023.
John's award is great honour and reflects an increasing level of recognition for this group of rare diseases and the patient support charity Vasculitis UK.  Whilst the award was in John's name, it should really target the full team at Vasculitis UK.  
John and Susan were catalysts in getting greater attention directed to vasculitis and similar rare diseases.  Since its inception, the aims of Vasculitis UK have been:-
1) To provide support mainly by means of information and advice, often at a personal level, for those newly diagnosed with vasculitis and/or living with it as a long-term condition. This usually involves one-one support by 'phone,letter, email or online discussion.
2) To facilitate people with vasculitis in making contact with others with this condition and sharing information by means of local support groups and a regular newsletter.
3) To encourage and support financially and practically both clinical & scientific research into different types of vasculitis and various aspects of the disease.
4) To increase knowledge, understanding and awareness of vasculitis and its consequences among the general public and especially medical professionals.
Vasculitis UK– formerly known as Stuart Strange Vasculitis Trust
Registered Charity No. 1180473