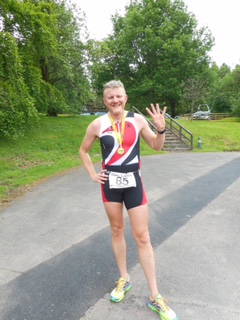 How do you eat an elephant? "A small piece at a time." That's what I was told back in 2008 when I was first diagnosed with Wegener's Granulamatosis (WG). The date was the 1 st October (the anniversary of an infamous cyclist who was stripped of 7 Tour de France wins; however he was diagnosed with cancer that day).
Prior to this date I was fairly fit and active I had completed several 10K road races about 3 half-marathons and ran 3 times a week. The fitness was lost as a result of the WG, I could barely walk, I had lung damage and then the depression kicked in, which was harder than dealing with the WG. At the time I had a lot going on in my life: a disease, mother-in-law in intensive care, 2 houses to fund and I wasn't working. So I had a big elephant to eat and the only way I could do it was a small bit at a time.
My consultant said getting back to exercising would start to chase the depression away. So I did a small piece at a time but often as I was having cyclophosphamide at the time. Eventually I built up enough fitness to race again. Then I went onto to do a marathon which I never dreamt of doing prior to WG. An ankle injury resulted in me taking up swimming then I decided to start cycling to work, this is when I caught the triathlon bug!
In 2014 I had a flare up which resulted in a blood clot in my internal jugular vein, which meant more treatment and warfarin for life (only 4 units of alcohol allowed –Booo), I kept my training up through cyclophosphamide.
Fast forward 2016, my fitness was good (remember I got here by just doing a small bit at a time). I decided to do 10 events for Vasculitis UK in 6 months, this consisted of 2 duathlons and 8 triathlons. For those that don't know a duathlon is run bike run event and a triathlon is a swim, bike then a run.
So this is how the year of events panned out with a bit of chemo chucked in for good measure:
20th March 2016: Sun City Duathlon , this was an 8am start at Roker which is on the North East coast so as you can imagine it's not going to be warm! I picked my Mam up (A member of the #TeamHag) at 6am as you need to register prior to the race. Team Hag consists of Mrs Hag (Ali), Mother Hag and Dad Hag. The name Hag comes from my nickname Haggiss (no we are not all ugly, well some might be, I'll let you decide!). I arrived at The Seaburn Centre at Roker in good time, collected my race numbers filled up with coffee, and then racked my bike with my bike shoes. The 1st run was 5K which went well at one point I had to actually slow down as pacing is the key in these events otherwise you run the risk of bonking!! (See Jonathan Brownlee in Mexico, now that was a classic bonk! I know what you were all thinking; this is a typical triathlon term). In from the run you head into Transition 1 (T1). In T1 you change out of you running shoes put you bike helmet on then your bike shoes, collect your bike for 4 laps around Roker. All I can remember about the bike is that it was cold windy and a competitor crashed into a public cyclist and broke his collar bone! On completing the 4th lap I hopped off the bike into T2 and changed back into my running shoes, then headed off onto the run, bang wobbly legs if you ever have tried running whilst coming off a bike it's the closest thing to looking drunk if you have never trained for it. Even the fittest person in the world would struggle if they don't include it in their training. After around 200m I was ok, 5k later I crossed the finish line so that was the start 1 out of 10 completed. Whilst I was racing my Mam who's not that shy was talking (no) to a man about what I was doing this year and he donated some money for Vasculitis UK, so the first event was worthwhile after all.
April 2016 : I won the Sunday post family hero award in Glasgow. Judy Murray and Lorraine Kelly presented the award to me. Looking back at the photo of the night my wife (Mrs Hag) noticed that my left eye was starting to protrude forward again. I also started getting facial pain. The Scans showed that the WG was coming back. The prednisolone was increased then the plan was to stick me back on Cyclophosphamide. I was gutted as I thought that's the end of the other 9 events and the fundraising for Vasculitis UK.
Eventually it was decided I would have Rituximab this was planned for May. I was only kept in hospital for a day, phew as I was racing on the Sunday at Stockton.
24th April 2016 Stockton Duathlon : After no training all week, an increase in Prednisolone it wasn't the best preparation for this event. I went swimming the Friday before with my eye still protruding the goggles being tight had caused the white in my left eye to go red; being on warfarin it made the eye look worse. It must have looked bad as I got plenty of sympathy off my club mates.
It was Mrs Hags turned to get up early for the start. We got there in good time did the usual register, coffee and racked the bike. There was also a few other Durham Tri Club members there as Stockton Duathlon is a really big event as it's usually a British qualifier. If you are good enough you can qualify to represent Britain for your age group. Durham has quite a few "Age Groupers". The 1st run was quick, the bike was really windy and I was quite pleased because I past a Durham age grouper and took 4 minutes out of him on the bike. (At the finish he was complaining that he selected the wrong bike for the course!!!). Coming onto the final run I was a bit angry with the WG coming back so I decided just to go for it, plus I knew the Age Grouper was chasing me down low and behold I beat him. I was delighted especially after the week I had. Once I received my medal I went straight over to the podium and posed for a photo before the actual winners were presented with their prizes. Now that was 2 down 8 to go. Plus the prospect on 2 infusion of Rituximab.
May 2016 : Prior to the increase in steroids I had terrible double vision so I use to keep one eye closed whilst cycling, I know the steroids were working as the double vision was going – there was only 1 Mrs Hag. Now it was time for the Rituximab I had the 1st infusion on the 5th May, this went ok but I had an irritating cough that started. It was that bad Mrs Hag chucked me in the spare room!
15th May 2016, the Cleveland Sprint Triathlon : This was a 400m swim, 20K bike followed by a 5K run. Mrs Hag and I stayed in the camper van overnight at Stokesly so I would be there in good time. I did the usual register, rack the bike and then loaded up with coffee. The swim was a pool swim and it was only 16 lengths. The thing is with sprint triathlons, that's what you do throughout the race "sprint". The swim I hardly breathed, I coughed throughout the bike and the run was pretty good considering the previous legs. I finished in a reasonable time 3 down 7 to go; now it was time for my 2nd infusion of Rituximab.
18th May 2016 , I went for a swim prior to my 2nd infusion of Rituximab. This made me late for the appointment so I ran up from the baths to the hospital trying to eat a flapjack and drink a coffee at the same time. By the time I got there I was sweating buckets. The nurse was concerned about the sweating; I still had the irritating cough and my temperature was low!!! She said she would have to take a blood test prior to starting the infusion. Anyway I got the go ahead to proceed and a blanket to warm me up!!!
June 2016 : Now the Triathlon season really kicks in. Open water swimming is now the norm for Triathlons. I was warned by my consultants not to take necessary risks whilst swimming in open water (not to swallow the water) as there was an increased risk of catching an infection as my immune system was suppressed with all the medication I was on.
I still had the irritating cough it was that bad I was sleeping now sitting up as the consultants thought it was reflux, a side effect of the prednisolone. I was booked in for a chest scan and a barium meal. However, whilst at work a Queen Bee landed on our factory wall and it attracted over 20,000 Bees, I had to organise a Bee Keeper to come out and take her away. He heard me cough and he said it's hay fever (I never realised he was an expert in WG). He said natural honey would get rid of it; I was that desperate I decide to start taking it daily.
19th June Kielder Olympic distance Triathlon – this triathlon was probably the hardest of them all as the distance doubles: 1.5Km swim, 40Km bike (England to Scotland) and then a 10Km trial run. I thought with the cough, lack of open water swimming (one swim prior to the event), being eaten alive throughout the night by midges and the terrain I would just be glad to finish in one piece, I was generally worried!
With us camping I could register the night before, this would give me an extra 30 minutes in the van the day of the race. I racked the bike next to a friend of mine who helped me on with my wet suit. I was nervous about the swim as I knew the cold water would start the cough again, this is why I wanted to get in the reservoir and "warm up". Once in you have to let the cold water in via the neck, its freezing believe me, your body then heats the water trapped between you and the wetsuit to keep you warm. I did this no coughing, a great mental boast! The hooter went and we were off you couldn't see a thing as the water was brown off the peat. Kielder Reservoir is a man-made reservoir, the largest in Europe! Half way through the swim I was making good progress I was in the middle of the reservoir and then bang my arm caught something it was I though a log! In fact it was an old tree that hadn't been removed prior to the land being flooded (I know there was an old village beneath us). At this point I had to climb on top of the trunk. It was so funny as everyone swimming around me thought I was walking on water, the guide in the boat wanted to know what I was standing on, I explained he tied a buoy to it and I was on my way.
I exited the water on about 32 mins, stripped off the wet suit and then headed off onto the bike route. This was windy, cold (yes I know it's June but we are on the border with Scotland here) and it was full of cattle grids ( a recipe for bad backs). The route took you into Scotland with a great sign saying "Welcome to Scotland" I know why it was downhill for approx. 3 miles to the turnaround point. Then I realised I had to climb that hill on the way back no wonder the return sign just said "England" – no welcome here then!
The run I was knackered and you could tell the lack of running and possibly the infusion of Rituxamab, the cough was taking its toll oh and those bloody midges. I know I can run quicker and it wasn't flat! However the plan was to finish it and raise money for Vasculitis UK. I did finish received my medal and then drank about 2 litres of coke (I never drink coke, so that was bizarre).
July 2016 – I had the chest scan then the barium meal, the result showed everything was ok, so they were puzzled where the cough was coming from. I was that desperate now I was taking 2 spoonfuls of honey a day, one was for the cough the other was because I like the taste.
Anyway low and behold prior to the Ripon Triathlon, the cough disappeared. Now reading the comments online about Rituxamab I think it might have been a side effect.
9th July 2016 – Ripon Olympic Distance Triathlon (1m swim, 40Km bike followed by a 10Km run) – this is a massive triathlon (4000 people in attendance over the weekend) and it was based at Ripon Race course. The swim believe it or not is in the middle of the race course, watch out for it next time you are watching at the races!!" Team Hag travelled down on the Friday in the Camper Van. We managed to get a good spot next to the Lake.
On the Saturday the race started at 2pm. With having over 2000 competitors you were split into 10 waves for the swim (no pun intended). I was in Wave 5, each wave was set off every 10 mins so I wasn't actually off until 2.50pm. This gave me time to cheer the leaders in from the swim and there were 2 Durham lads in the top 10 out of the first wave.
My mate Bally was in the same wave as me and we can both talk so the 50 minute wait with wetsuits on soon passed by quickly. So in the water we went, the plan was to go to the far end of the line up to the deepest point but at the front. We wanted to get ahead of the pack so Bally was going to swim like mad for 400m and I would follow, then I would take over. After the 1st 10 meters I lost him but stayed with a pack all the way round the lake to the exit point, I swam behind them to conserve energy for the bike. Quick change out of the wet suit and onto the bike, this again was wet and windy an out and back route along the old A1. I was caught up by a club member whilst on the bike, he said he was delighted that he managed to have a pee whilst on the bike, I couldn't stop laughing thinking about the damage he would have done to his "cogs" (steady bike cogs I mean).
Into transition then a quick change of shoes and onto the run. I was knackered however, I managed to pass a few and it was great at the finish to see all the Durham Triathletes cheer me home. That was it 5 done 5 to go for Vasculitis UK.
17th July 2016 Northumberland Sprint Triathlon , now the races were coming thick and fast if I wasn't racing I was training. Every Tuesday I would head off to the lake near where I work to swim with another Durham Triathlete "Yoda" he's a British Age Grouper and my "mentor", well he keeps me right!!!. Yoda is a great swimmer I'm sure he is half fish!
He was doing Northumberland with me, again Mrs Hag and myself kipped over night in the camper of the hotel car park whilst Yoda had all the luxuries of a bed and bog!
The race format was 750m lake swim 14 mile bike with a 6Km run. For the swim Yoda always tells me to start as far left as I can, so we can avoid the masses, this is so we don't get a couple of kicks or left/ right hooks. For once I listen to him, the hooter went then the washing machine of swimmers starts, we headed for the 1st buoy. I came to the first buoy at angle joined a pack of about 8 swimmers drafted off them to the exit ramp. I started running up the bank whilst stripping the wetsuit off, glanced to my left and noticed Yoda alongside me; I couldn't believe I actually came out of the water ahead of him!!! After the race he said he was sick during the swim (yeah right). I was out of transition and onto the bike a minute ahead of him now, well he does have to put a hair band in!!! The bike was so windy and I'm quite a thickset lad and sure enough he passed about 5 miles later. Yoda went on to overtake 75 people to get a place on the podium. Another age grouper passed me from Durham who also went on to win his age group. As the norm I got off the bike and imploded I might as well have walked I was that slow, but it was all about the finishing, which I did that was the 6th one out of the way, 4 to go – momentum.
14th August 2016 Sun City Tri – Sun City Triathlon sounds glamorous and it is! This consisted of a North Sea Swim, the bike and route was the same as the Sun City Duathlon. I know quite a lot of the Sun City lads so when we meet up even at 6am in the morning the banter is great.
The swim in the North Sea was one of the flattest and clearest I have ever swam in however, it was bloody freezing so there is no time to hang about. A 7am start, the hooter goes and then there is about 100m dash into the sea, again I go as far left as I can, luck is with me as the angle I swim is with the current I get with a group at the first buoy and stay with them to the 2nd, at this point the group separates as there a few jelly fish in the water. Once round the second I use Seaburn Centre on the prom to aim for, I swim to the shore until I'm basically lying on the sand. It's now a 1Km run from the beach to the prom then to transition, this is when it really hurts the balls of my feet. By the time I get to transition my wetsuit is almost off. Quick change through transition wetsuit off, helmet on, race number on, bike shoes on takes me 45 secs, "why can't you get ready that quick on a night", I hear Mrs Hag Shout.
The bike course 4 loops was quick and went without any hitches, now onto the run. The run went ok and I was starting to pick it up a bit. I finished in a reasonable time and that was the 7th completed. Only a week to recover for the next one.
21st August 2016 – The Spanish City Triathlon . Another glamorous sounding name for a triathlon but this is at Whitley bay and there was an amusement arcade up there called "Spanish City" nothing to do with Madrid!!! This was a week after the Sun City Tri and there was a massive difference in the weather. Again the swim was in the North Sea and the swells were pretty high making the sea pretty rough. Approximately 28 people didn't fancy it and pulled out before the start, lined up on the beach I was far left as I could go then the announcer said "Can every one move left to avoid the rocks".
Whilst everyone was moving left the hooter went for the start everyone was caught off guard and there was a mass stampede into the water. I hit a wave full on the goggles filled up with water, freak start. I didn't what to stop and adjust as I knew people would just swim over the top of me; I headed for the 1st buoy. Once passed the 1st buoy the waves were now side on so if you got your timing wrong you either got flipped or a mouth full of sea water. Past the 2nd buoy now the easy swim onto the shore. This was really difficult as the tide kept pulling you out. I hit the beach staggered a bit, lost my goggles and then started to peel the wet suit off as I approached transition. With it being so windy my helmet hand blown off my bike anyway I retrieved it and was off for the 2 laps up to Seaton Sluice (no time to stop for fish and chips). The route is fairly flat but the crosswind gave you no advantage what so ever. The bike leg was uneventful and then it was onto the run. Again I was knackered the swim and bike had took it out on me and there was a couple of people on the prom walking their dogs that were quicker than me! The intention was to finish and I did just before one of my club mates. He said he could see me struggling and wanted to catch me. I collected my medal posed for a photo and chatted to some of the lads, one of our club lads was off to Mexico to compete in the grand final as an age grouper and even he struggled today which was reassuring. Not a lot of my club mates know that I have WG they just think I'm a normal lad (which I am).
Whilst chatting at the finish there was a big round of applause went up and it was the last swimmer!!! They still had the bike and run to do! I also heard that 3 swimmers had to be pulled out of the water because of the conditions.
Now that was 8 out of the 10 done, there was light at the end of the tunnel.
3rd September 2016 – Bamburgh Castle Triathlon , this has to be the most scenic race of them all. The sea swim again is in the North Sea which is a straight swim north parallel to the shore, so you get the full effects of the waves hitting you from one side and the great view of Bamburgh castle on the other. If you're not a bilateral swimmer you are knackered! The bike is an out and back route towards Holy Island and the run is along the coastal paths and sand dunes.
Mrs Hag and I travelled up the week before and camped not too far away from the start. This was to acclimatise with conditions. The sea off Bamburgh is prone to jelly fish and has massive waves so it tends to be a surfers paradise.
On the day of the race it chucked it down Dad Hag & Mam Hag travelled up to support. Even though I had been up for the week I registered in the nick of time as I had got my timings wrong. The start time was 5pm. I racked the bike, had a bit of banter with my mate Bally who had just finished the earlier race, he completed his race in 8 hours!!! He gave me his energy bars what he had left and a really sweaty hug!
Again because of the numbers it was a staggered started on the beach and I was in the second wave (promotion) so I was in with the faster swimmers. The swim was pretty uneventful all I can remember is following a bloke in and orange wetsuit as it turned out it was a safety canoe!!! This tells you how bad the vision is in the North Sea. I exited the water in a reasonable time stripped the wetsuit to my waste and started the long bare foot run around the castle to transition, there was Team Hag on route ready for the wet high fives I gave them.
Whilst in transition I proceeded to my bike put my helmet on then the bike shoes, at that moment I realised I still had the wetsuit on, numpty or what. So after laughing at myself I did manage to get sorted. The bike route was hard, wet and windy and I played cat and mouse with another competitor along the route taking it in turns to take the full effects of the wind.
On the run the other competitors left me for dead, I don't know what's happened to my running but since the infusion of Rituximab I've been slow (I'm blaming that anyway). However, my swimming and cycling has compensated for this. The run was hard and the sand dunes zapped my energy and on the return into Bamburgh I could see the finish and hear the music playing for the finishers. Just when you think you're finished you have to do another lap of the cricket pitch so another set of high fives with team Hag then I cross the finish line. I receive my medal which is the best by far a real big chunky thing and I'm that knackered I can't even bend down and take my timing chip off to hand back to the organisers, so I have to get someone to do the honours.
Now that was 9 done only 1 to go.
25th September 2016 – Hartlepool Marina Triathlon . "The Grand Final" – This is the last open water triathlon in the North East Calendar and it's my favourite. A flat swim in Hartlepool Dock, A flat bike of 4 laps to Seaton Carew (this is where the infamous canoeist is from that faked his own death) and a flat run along the prom and marina.
My Club Durham Tri had now got wind of my condition and what I was trying to achieve for Vasculitis UK so they turned on in numbers to race with me on that day and my just giving page got a bit of sponsorship.
The swim was in 2 waves I was promoted to the 1st wave based on my swim times and when we entered the water via a ramp it was surprisingly warm that was the only plus. It was also full of small jelly fish so I didn't bother letting any water into my wetsuit via the neck (to warm up) just in case I got a few inside the suit. Also the water tasted of diesel!!!
The hooter went for the start I had a great swim came out of the water with 2 British age groupers and kept up with them on the bike, however when it came to the run they left me for dead.
My run was slightly better and it was an out and back route on the prom so as I past Durham Tri Club members it was high fives all the way as they came in the opposite direction.
I was now on the final stretched with a bunch of guys they all decided to go for the sprint finish I held back a bit so I could do my customary high fives with team Hag!!! I was going to do the Johnny Brownlees's infamous stagger over the line (Mexico 6 days early) but thought better of it as I might frighten a few people.
After the finish it was congratulations all round from the Durham Tri members, a few even managed podium finishes for their age groups and we all posed for a Durham Tri Team Photo.
Active Hartlepool wanted to do an article for their website about me and my fund raising for Vasculitis UK.
Even the Major of Hartlepool turned out to see me and posed for a few photos!!!
That was it 10 completed in 6 months with 2 weeks of infusions of Rituximab in between.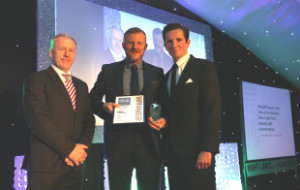 1st December 2016 I was nominated for the Northern Echo Local Hero award, on the night I won the senior most remarkable achievement award for my 10 duathlons and triathlons, I was up against a guy who was the 1st to climb Everest with cystic fibrosis!!!! It was a great night wth a lot of Olympians there and I shared a table with Aly Dixon who competed for Team GB at Rio in the marathon.
10th December 2016 I was voted Durham Triathlete of the year by my fellow Durham Triathletes. I was really chuffed with this award as Durham has got some top class triathletes (World and British Champions!!!) and it was nice to get recognition from my fellow club members.
What next for Big Hag? Well I still haven't finished the elephant as I'm only eating small pieces at a time. I would love to go on and do an Iron Man however I don't think Team Hag would let me as they know what training would be involved. However all being well I'll still race and along the way I'll spread the message about Vasculitis UK, hopefully bringing in more donations and sponsorship.
I get loads of people commenting on my fitness however, what they don't realise it has been built up over 8 years and they don't know the journey I've had however, it has put me in a great position as I feel as though I'm ready for the next flare up. I think my fitness has been a key thing in helping me through the flare ups both mentally and physically.
Back in October 2008 I was wheel chaired into hospital I could barely walk I was that bad. Now I believe I'm the fittest I've ever been and that is because I've done a little bit of exercise but often and over time it has built up to this.
The advice I would give to other WG suffers is listen to your body, don't over do it and eat the elephant one piece at a time.
I would also like to take the opportunity to say thanks to all that helped, donated and supported me throughout 2016 in particular to Vasculitis UK and Team Hag.
Thanks again