Read the articles published about vasculitis patients, and fundraisers for Vasculitis UK, who have had their stories told in the national, regional and local media.
'Wonder drug keeps me alive – but I may never be protected against Covid' – Mirror Online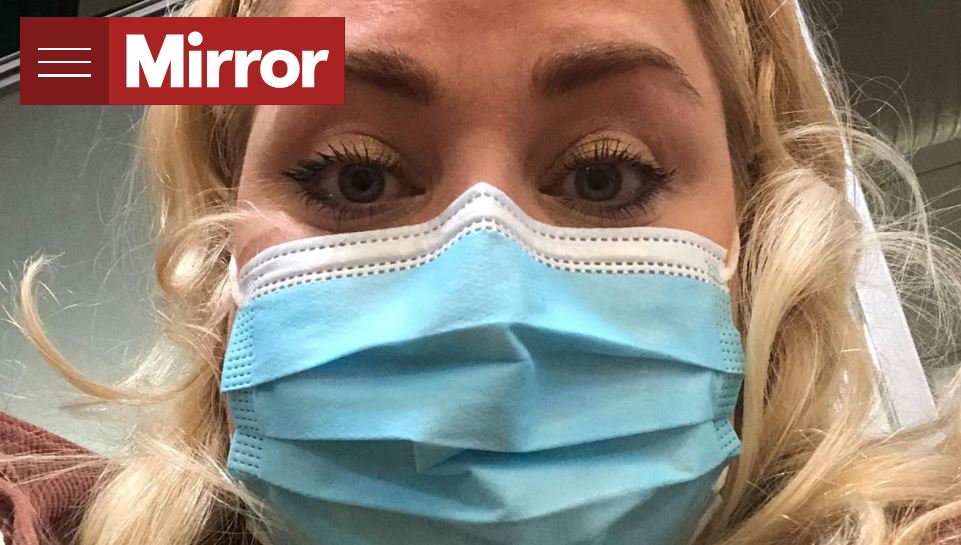 Vasculitis patient Hannah Burden explains on the Daily Mirror website how her vasculitis drugs are likely to render Covid vaccines ineffective for her.
ITV News on Vasculitis and Covid
Vasculitis patient Charlie Harper is featured in an ITV News item on how Covid vaccines affect immunosuppressed people.
'Freedom Day' worries
Jane Edwards & Susan Mills Trustee of Vasculitis UK explain how the so called "Freedom day" is a huge worry for those who don't have any antibodies from the vaccine and in fact everyone that spent 15 months shielding to keep safe. The remaining safeguards will be lifted on Monday.
Undiagnosed Vasculitis
Maria Lawrence lost her life to COVID19 in March 2020. After Maria's death it was discovered she had underlying vasculitis which had previously gone undiagnosed.
Walking to raise awareness
Shanali Perera is walking to raise awareness of vasculitis and fundraisers for Vasculitis U.K.
InYourArea local newspaper website article
COVID19 Saved My Life
Angela was transferred to the Royal Brompton Hospital with Covid-19 and was diagnosed with eosinophilic granulomatosis with polyangiitis
80-year-old vasculitis patient thanks NHS staff after beating the coronavirus
80 year old Keith Adams, who suffers from Granulomatosis with Polyangiitis (WG), thanks NHS staff after beating COVID19
"Contracting a serious illness was a blessing"
John Mills, Vice Chair of Vasculitis UK, told Reflections magazine about the onset of vasculitis 18 years ago, and how it has changed his life
"You don't look sick …"
Jane Edwards – author of Chronic Illness: learning to live behind my smile told the Metro about her experience of vasculitis.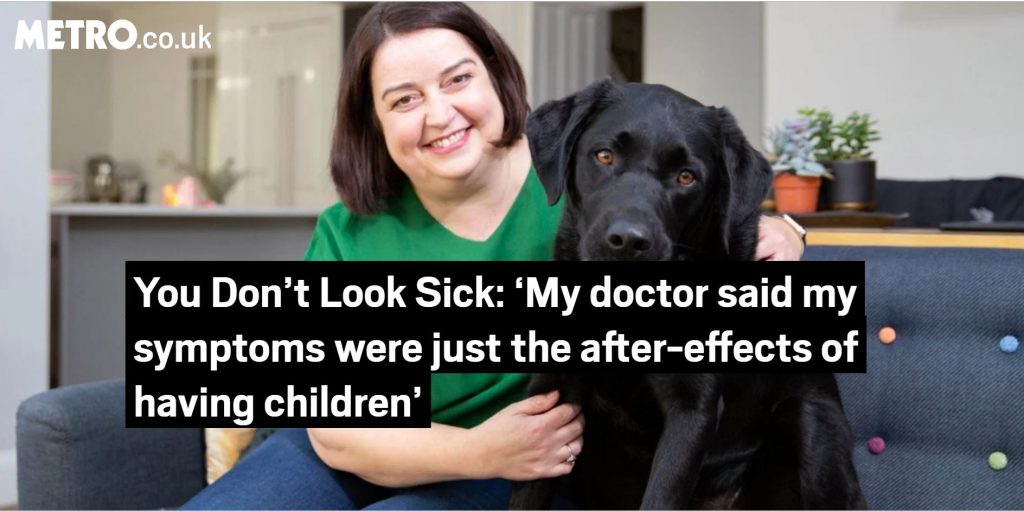 Final message from Robbie Cross
Robbie Cross was diagnosed with vasculitis with kidney involvement and had to have dialysis three times a week. He very sadly died at the end of May.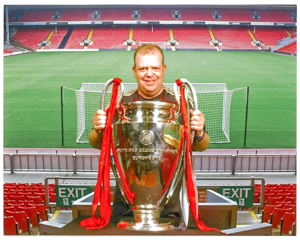 I could barely walk and nearly lost my sight – then a drug trial saved my life
Bath Spa Dentistry employees get their teeth into fundraising for Vasculitis U.K.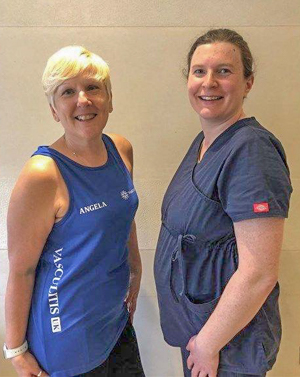 Article on Bath & Somerset Business Exchange website
Launch of a new Charity Single
Item covering the launch of a new Charity Single by local song writing duo, Clarry Bean and Andy Merryweather, 'Christmas (The Way it's Meant To Be)'. Clarry Bean sadly lost his wife, Christine, just 12 days before Christmas in 2017. She had received treatment for several years for both a rare autoimmune disease, Granulomatosis with Polyangiitis Vasculitis and bowel cancer.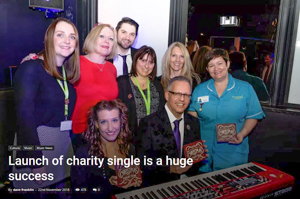 Coverage on the Swindonian website
Tribute to GPA sufferer
Profile of GPA sufferer Janine Baxter on Lincolnshire Live website.
Vasculitis support group to start at Norfolk & Norwich
Eastern Daily Press news item announcing start of new group
News item in Eastern Daily Press
How I got my nose back
Sun article about Jayne Hardman's experience with vasculitis, which has resulted in her being fitted with a prosthetic nose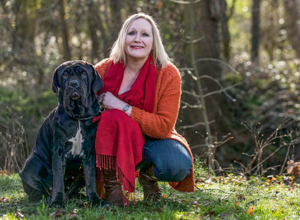 Cleator Moor great-grandfather's charity wing walk
Coverage of Tom Connors, 78, who is will be strapped onto a 1940s biplane while it carries out a loop-the-loop, in aid of Vasculitis UK
Awareness campaign in Sunderland
The death of a mum-of-three from a condition where the immune system attacks the body has led her sister to launch a campaign to save others.
Craft Fair for Vasculitis UK
Dad and daughter duo Malcolm and Clare Bruce are hosting a Craft Fair in aid of Vasculitis UK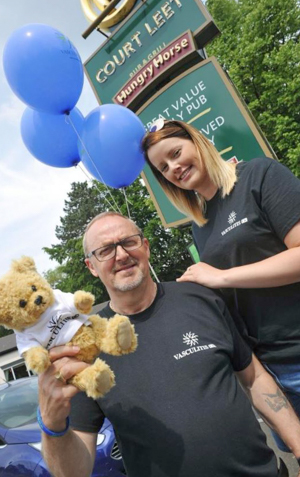 Redditch & Alcester Advertiser article
Cardiff Half Marathon – in a wedding dress
Janine Osborne-Bowring is set to run the Cardiff Half Marathon in her wedding dress – two weeks after going through chemotherapy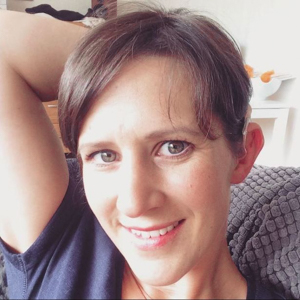 Eight peaks in a wedding dress – for Vasculitis UK
Medical Degree for Vasculitis student
University of Dundee student Elizabeth Ferris (30), who collected her medical degree on Friday, 23rd June. Elizabeth was diagnosed with Vasculitis, an autoimmune disorder that causes inflammation of the blood vessels. Coupled with blindness in one eye, the inflammation then struck her spine. As a result of this life changing illness she had to take three years out from her studies.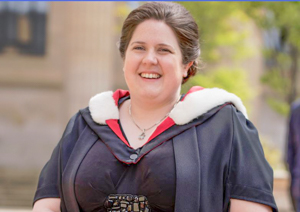 Press release from University of Dundee
Neil Dougherty interview on BBC Radio in the West Midlands
Vasculitis sufferer Neil Dougherty was interviewed by Graham Torrington about his illness and his fundraising work for Vasculitis UK The clip is available until 11 July 2017 as part of the programme here, starting at about 1h 24m into the programme
[No audio? Here is an
Alternative link
to download the audio file]
Short video for Vasculitis Awareness Month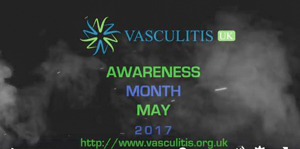 "Living with a Rare Disease is like having a full time job"
Suzanne's story of living with Behcet's disease, an extremely rare type of Vasculitis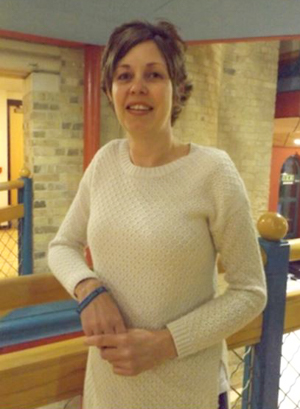 Neil Dougherty talks about his diagnosis of Vasculitis to Neil Coffer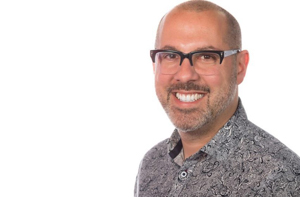 What is giant cell arteritis and how can I recognise it?
A FATHER of two is taking on the highest peak in Wales just twelve months after being induced into a coma.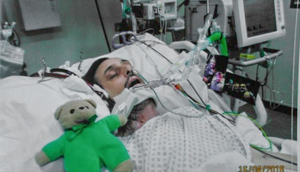 Megan Smith is helping others after being diagnosed with Vasculitis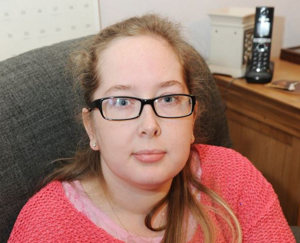 Schoolgirl Xena Mclane's cold turned out to be life-threatening auto-immune condition that left her with end-stage kidney failure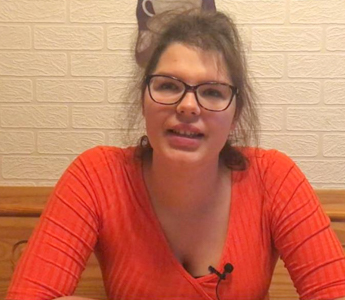 Classroom Sleepout raises £400 for Vasculitis UK: 11 year-old Emily Duke organised a sleepover for her classmates
Megan Davis, a Vasculitis sufferer from Glasgow, is profiled in a Daily Record article that decribes her activities as a Cheerleader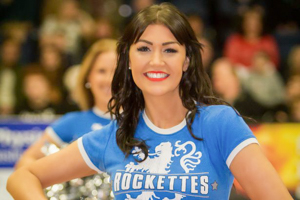 Antony and Sally Hart are looking to raise awareness of Vasculitis, which affects their son Giles, in Hastings.
Martin Makin, who has vasculitis, has been getting great coverage on BBC in the East Midlands for his marathon run:
Videos of Martin on BBC East Midlands Today Clip 1 Clip 2
Dog toys help chronically-ill woman cope with conditions
ATHLETE DEFYING THE ODDS TO RAISE AWARENESS OF RARE ILLNESS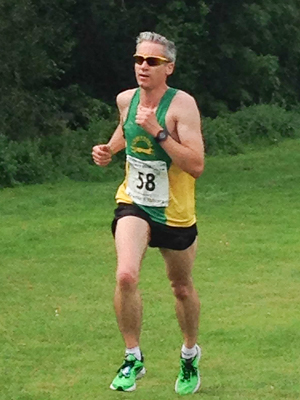 INSPIRATIONAL FUNDRAISER FOR VASCULITIS UK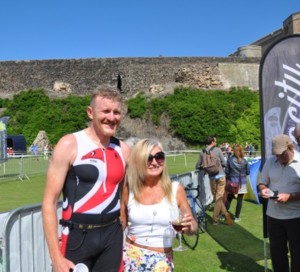 Andrew Robertson has been fundraising for Arthritis UK Research, and now is fundraising for Vasculitis UK.
JIM McCLUSKEY MEMORIAL DINNER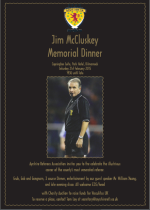 The dinner, held in February 2014, raised £4700 for Vasculitis UK. Jim, aged 62, was a senior referee in Scotland and lost his battle with Vasculitis, two years after being diagnosed.
"THE DOCTORS THOUGHT IT WAS ARTHRITIS"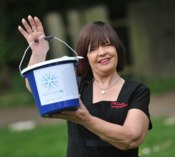 Susan French's brother Paul French, died aged 69 in September 2014 after initially being treated for arthritis in the muscles.
Suffolk Free Press – 22 May 2015
'What is Vasculitis?'
Interesting article from BT.Com for Vasculitis Awareness Month
Rachel Dring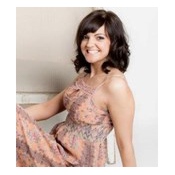 The Bath Chronicle – March 2015. The friends and family of a 24-year-old nurse who died from a rare autoimmune disease have started a charity campaign after learning about her condition for the first time.
KAYLA FOULKES
The Chester Chronicle – October 2014. Kayla Foulkes was just 21 months old when doctors discovered she had Kawasaki disease
PETER MICALLEF
Warrington Journal – Sept 2014. Peter Micallef undertook sit ups and press ups and took the ice bucket challenge in September 2014.
ANDREW IRVING
YouTube video – Aug 2014. Andrew raises awareness of vasculitis when he rallies. This video was of the REIS Asphalt Rally Championships – Tyneside stages. Andrew came 2nd in the B9 class.
GARETH GARNER
Newmarket Journal – Aug 2014. The Newmarket teenager who never thought he would live to take his "A" levels is now preparing to go to university.
HANNAH TWINBERROW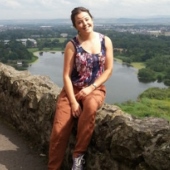 Thame Today – Aug 2014. Youmg woman forced to drop out of university because of vasculitis is now in remission and off to South Africa to volunteer in the Cape Town youth project
CHARLIE PONDER – 80 MILE NORFOLK COAST RUN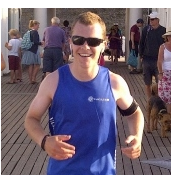 Great Yarmouth Mercury – Aug 2014. Sheringham teacher, Charlie Ponder aged 26, has GPA and recently ran 80 miles of the Norfolk Coast to raise money for Vasculitis UK
EMILY SPENCER – YOUNG CNS PATIENT RECOGNISED FOR BRAVERY
The Northern Echo – July 2014. Emily is 12 years old. When she was 10 she suffered a stroke and was subsequently diagnosed with Central Nervous System Vasculitis. The Stroke Asscoiation's Life After Stroke Award was presented to Emily.
STEVE PASK RAISES FUNDS FOR VASCULITIS UK
Steve took part in the Orwell Walk in June 2014, and a report of his fundraising was included in the East Anglia Daily Times on 2nd July. Steve Pask – East Anglia Daily Times
DAVE HAMPTON COMPLETES THE HENLEY UPSTREAM SWIM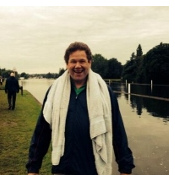 Bucks Free Press – July 2014. Former GB rower and environmentalist, Dave Hampton, took to the Thames for a gruelling upstream swim along the Henley Regatta course he used to row to raise funds for V-UK.
JOE ENTERS THE L'EROICA BRITANNIA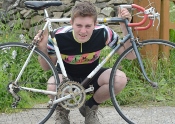 Derbyshsire Times – June 2014 Heroic teenager Joe was diagnosed with vasculitis when he was 11 years old. He now gears up for a 55 mile cycle ride in the L'Eroica Britannia on 22 June to raise funds for Vasculitis UK. Joe's fundraising was also an article in The Sheffield Star
THE VALLEY GIRLS
Bicester Advertiser – June 2014. A group of mothers from the Cherwell Valley (the Valley Girls) are planning a 470 km cycle ride across Rajastan in February 2015 to raise funds for Vasculitis UK.
NATALIE MOULSDALE AND FRIENDS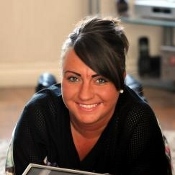 St Helens Star – 8th May 2014. A team of 25 fundraisers, lead by Natalie Moulsdale, will tackle the ascent of the highest mountain in Wales to raise funds in memory of her father, Neale, who died from vasculitis. The team are raising money for Vasculitis UK.
MARTIN MAKIN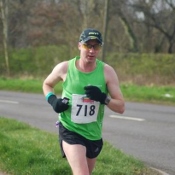 Loughborough Echo – 15th April 2014 GPA sufferer, Martin, runs for research work. Martin from Mountsorrel ran the Loughborough Half Marathon while undergoing chemotherapy and has raised around £650 to help vasculitis research.
HAROLD RAMIS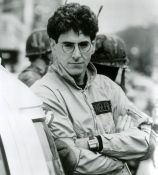 Student Journal – 14th March 2014 Actor and writer Harold Ramis (Ghostbusters and Groundhog Days) dies at the age of 69. The well loved actor/director Harold Ramis died on Monday 24th February aged 69, due to complications with a long term autoimmune disease.
Ghosbusters UK are fundraising for Vasculitis UK during 2014 in memory of Harold Ramis. Further details can be found on the UK Ghostbuster's website.
BETHAN SPEAK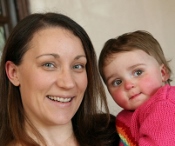 The Huddersfield Daily Examiner – 8th March 2014 Toddler Bethan Speak's parents open up on rare condition that makes daughter's skin look like she's been beaten.
MARTIN MAKIN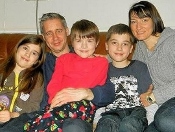 Loughborough Echo 6th March 2014 Distance runner Martin enters the Loughborough Half Marathon despite being on chemotherapy for the treatment of vasculitis. He may not reach his personal best but Martin will give it a good try for Vasculitis UK.
CLARRY BEAN, CHRISTINE BEAN AND ABBY MANSI
Abby and Clarry are singing duo Generation Gap. Christine has vasculitis. Here they are being interviewed by BBC Radio Wiltshire prior to their vasculitis concert in February 2014. (Recording by kind permission of the Graham Rodgers – Saturday Breakfast Show – Radio Wiltshire)
HOLLY HAMPSHIRE
Mail Online – Femail – 27th January 2014 "Doctors told me that chemotherapy would make me infertile" – Joy for Holly who feared treatment for rare disease would stop her becoming a mother.
JOHN MILLS – Vasculitis on the BBC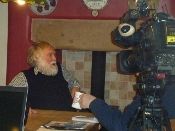 On 16th January 2013, John Mills, Chairman of Vasculitis UK was interviewed by BBC television. Watch the video – Vasculitis: Tackling the disorders that destroy the blood cells.
GILES HART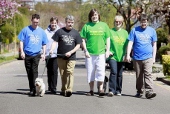 They were preparing us for the worst' – Enfield family spreads word about son's rare condition. This is Local London – May 2013. The family of a teenager who were "prepared for the worst" after he was diagnosed with a rare and incurable condition are launching a campaign to raise awareness.
LYNNE JACQUES
Support group set up for rare illness. Yorkshire Post – May 2013
New Support For West Yorkshire Sufferers Of Rare Disease. The Pulse (Radio Leeds) – May 2013
Group for Sufferers of Mystery Disease. Bradford Telegraph and Argus – May 2013
Lynne was also interviewed on Radio Leeds on 7th May. Listen to the recording (1 hour 10 minutes into the programme) at Liz Green Morning Show, Radio Leeds
JULIE SCOTT
Julie's "flu" turned out to be vasculitis The York Press – May 2013. When Julie returned from a dream holiday in Florida she started to feel unwell. She put it down to symptoms of 'flu or tiredness.
MARTYN WELLS

Martyn fights back from disease to tackle charity trek Worcester News – April 2013. Martyn fought a rare, debilitating disease and is now looking for people to join in a sponsored walk later this year.
Walker Martyn Wells aims to beat rare disease and raise funds for Vasculitis UK Worcester News – 4 July 2013. Martyn and friends completed the gruelling 31 mile Worcester Way Walk on 29th June 2013.
SARAH THOMAS
Teacher spent weeks in agony before disease diagnosis" ThisistotalEssex (Brentwood Gazzette – May 2013. An English teacher who nearly died on her wedding night from a rare disease is sharing her experience with others.
CHARITY IS A WINNER OF FOOTBALL MATCH
Two teams of parents battled it out on the football field to raise money for Vasculitis UK, in memory of Clare Grossman who died due to complications of vasculitis.
You can view two videos about Clare at: All about Clare and Why people sponsor Team Clare
HEALTH MINISTER LAUNCHES VASCULITIS IRELAND AWARENESS CHARITY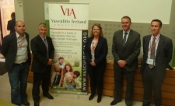 Northern Ireland Health Minister, Edwin Poots, launches the Vasculitis Ireland Awareness charity on 29th May 2013. Also shown in the photograph are Julie Powers (leader of the charity) and Professor Mark Little.
Northern Ireland Executive – 29 May 2013
BROMSGROVE DAD AND DAUGHTER TREK TO RAISE VASCULITIS AWARENESS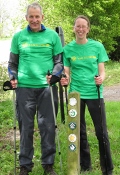 Chris Jewson and his daughter Sarah Pittaway preparing for the Worcester Way Walk on 29th June 2013.
Bromsgrove Standard – 25 June 2013
DAVID STARLING ENCOURAGES MORE PEOPLE TO BECOME ORGAN DONORS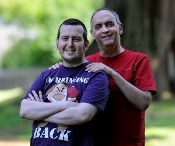 David Starling donates a kidney to his nephew Ryan Davies who has Wegener's Granulomatosis Wales Online – 10 July 2013.
GILES HART AND THE FESTIVE JUMPERS
Giles Hart and his family held a Festive Jumper Day Enfield Independent – December 2013