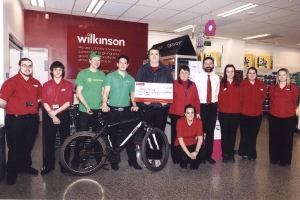 David Tyzack is in his early 20's and was diagnosed with Wegener's in 2012. He has recently undertaken an amazing slimming regime and you can view his story here, as reported in March 2013 in the Devon Journal.
David has much to thank his mum for, and he has asked for this thank you to his mum to be added to his story.
"My mum is the most special, amazing person in the world. It's not because she is a fantastic cook, or gives in when I need new shoes or clothes. No, it's because she is willing, through self-sacrifice and personal fortitude, to put other people first before her own concerns and needs.
When I feel ill from WG she never left my bedside. She changed my sheets and kept me in clean clothes, and she comforted me through chemo, plasma exchange and steroid weight gain.
When she had nursed me back to a state where I was able to walk, cook and start fending for myself, she suffered a stroke. I then had to look after her. However, my mum didn't have time for ill health. She decided now was the time to do as much as she could for others. She organised a coast to coast cycle ride with three Wilkinson's staff, got a furniture warehouse to donate a sofa set and arranged two skittle bowling sessions with Wilkinson staff! All this to help raise funds for Vasculitis UK.
This is why my mum will forever be my inspiration. Mum's everywhere will relate to the fact that when the ones you love have something that you can't protect them from, like a Vasculitis, you put that person first before yourself.
So to my mum and every person fighting Vasculitis this is for you."
David