I was diagnosed with Wegener's Granulomatosis at the beginning of the millennium at the age of 17. A millennium bug I always call it! I'm going to start off with good news… went through the treatment and have had no flare ups since. Good place to start I think!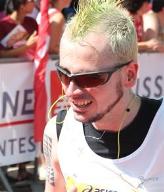 Unfortunately, being a musician, it was cruel that Wegener's chose to go for my hearing. In September 1999, after a particularly loud gig, I lost all hearing in my right ear. Initially I thought it was my fault, but visited my doctor anyway. I was told it had just been too much noise and that my hearing should return in a few weeks. Weeks passed, my hearing didn't return and my ear became badly infected.
Many a doctor and consultant treated this as a severe ear infection. It wasn't until I'd gone through a major fever over Christmas, severe weight loss (14 stone down to about 8), and eventually, after collapsing in January 2000, the ball started rolling. Many more consultant visits followed and eventually after Bell's Palsy had crippled the right side of my face my other ear went too. Then in April 2000 I found my saviour, Mr Hussain at Ninewells hospital in Dundee. He examined my ear and immediately knew something was seriously wrong, not just an ear infection. He ordered many tests, quickly consulted Rheumatologist Dr Morley, and performed emergency surgery on my right ear to relieve pressure and try to save my hearing. About a week or so later chemotherapy and steroids commenced and six pulses were scheduled. Aside from the mood swings and lack of sleep, I can honestly say the worst part was removing the sticky plaster they put on my arm during the chemo.Wasn't sick once and never lost a hair! Until now! I think age is creeping up on me.
I am thankful that the chemotherapy stopped the WG in its tracks. The Azathioprine and steroids which followed also helped put me into total remission within 3 years – which stands to this day. The hearing came back a fair bit too and, with the use of hearing aids, I was able to pursue my musical career, achieving a BA in applied music with honours from Strathclyde University. I've performed in many concerts across the country and was even part of a support act for Tony Bennett in Glasgow. The hearing loss didn't stop me playing, but I didn't enjoy it as much as I used to, the problem making performing more of a struggle than it needed to be. I don't regret continuing to study music as I have many great memories and friends from my musical endeavors. Drumming is still a part of my life, but I have since abandoned music to work with Majestic Wine as a trainee manager.
In July 2008 I also started running and completed my first marathon in Paris (April 2009). Since then I have continued running frequently completing many half marathons, and even a Kilomathon (26.2km) Most recently I completed the Marathon Du Medoc in September 2011. It was without doubt a wine drinking marathon, and needless to say I was a little dehydrated at the end!
I run pretty much every day now (sometimes twice!), and I see it as one of the main reasons I have stayed healthy. My long term goal is to run an Ultra Marathon of 50 miles or more before 2014. However, 2012 saw me taking part in the Rome Marathon and in September 2012 it will be the Berlin Marathon. I'm proud to be raising money for Vasculitis UK.
PS: I have now signed up for the "Ocean Floor" race in Egypt in 2013. This is an ultra-marathon, 160 miles, non-stop across the rugged terrain of an ancient dried up sea known as the "White Desert". Please wish me luck.
You may also like to see the Individual Disease page on Wegener's Granulomatosis (GPA)