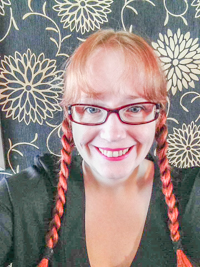 Hi, I am Kelly Jefferies, I'm 39 years old & I live in Leeds, West Yorkshire with my husband, Ian, who is also my full-time carer, and our 14 year old son.
I'm very lucky to have a fantastic support network as my parents, daughter, son-in-law & 7 month old grandson live just around the corner. My GP, who has been a massive support, is very nearby too.
I have three auto-immune disorders; Behcet's Syndrome, Systemic Lupus (SLE) and Antiphospholipid Syndrome (APS).
I have been poorly since I was a small girl, but, despite numerous tests, scans & specialists over the years, my parents were always told they couldn't find anything wrong with me so, naturally, they believed the medical professionals & thought I was a "drama queen"!
In December 2000, at 33 weeks into my second pregnancy, I had a massive placental abruption resulting in my second daughter being stillborn & almost losing my own life. It was at this time that the APS was diagnosed.
I went on to have my son in April 2002 and then in the summer of 2004, I started with stroke type symptoms and, after some tests & brain scans, I was diagnosed with Cerebral Lupus & started on infusions of cyclophosphomide, a form of chemotherapy.
Rather than being shocked, like my family were, I was just relieved to finally know I had something wrong with me & it wasn't "all in my head"!
In early 2011, my then Rheumatologist suddenly mentioned Vasculitis to one of his students in front of me at my appointment so I went away & researched it as he'd never mentioned Vasculitis before, especially to me and I didn't know what it was. This is when I found Vasculits UK and I contacted John & Susan Mills, I told them how badly managed my symptoms were & it took them about a year of gently prodding me to go for a second opinion. I travelled to Addenbrooke's Hospital in Cambridge with Ian, to see Dr David Jayne who diagnosed me with Behcet's Syndrome & SLE and he referred me on to a fantastic Rheumatologist in Leeds, Prof Morgan who specialises in Behcet's Syndrome and Large Vessel Vasculitis.
I have been a staunch supporter of VUK ever since and I'm extremely grateful to have been given a correct diagnosis.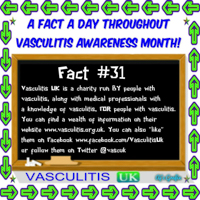 I started making graphics to raise awareness of, not only Vasculitis & the different Vasculitic diseases, but also the brilliant work VUK do. I have no formal training in graphic design but found it helped to pass my time & keep my brain ticking over when I am well enough. In 2015, I decided to do a "Fact A Day Throughout Vasculitis Awareness Month" series of graphics to put some facts out about Vasculitis, for use on social media that every day people would understand.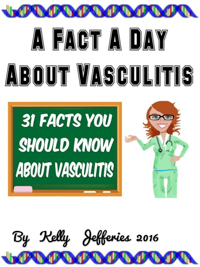 When John & Susan told me they were making "A Fact a Day About Vasculitis" into a booklet for Vasculitis Awareness Month 2016, because Dr Reem Aljayyousi, Consultant Nephrologist at Leicester Royal Infirmary used the graphics for a support group presentation & suggested it, I was speechless & deeply honoured. I was also happy they were to be sold for a small amount with all proceeds going to VUK as this meant that I wasn't just helping to raise awareness but funds too!
Prior to falling ill, I worked in administration & secretarial roles so I will also be helping with the VUK shop orders assisting the on-line shop co-ordinator when needed so we can get the VUK awareness products out in the public eye as well as colourful graphics I make which are mainly for social media.