My name is Kyri, I am 29yrs old, I've been ill almost all my life.
I was first taken ill when I was about 18 months old, I was admitted into hospital in December 1988, I was in hospital for 11 days and my mum was told I had chronic juvenile arthritis, I was so very weak and had so much pain in my joints and had a rash all over me. I missed out on a lot of school because of illness and I attended lots of hospital appointments and hospital stays. I had to have fluid drained from my knee and had to learn how to walk again because my muscles had collapsed in my upper legs, my pain had got so much worse and finally in 2010 I was told I had vasculitis, a type called Henoch-Schonlein Purpura and IgA Nephropathy, as well. My body burned all over with a horrible rash for over 8 months and the vasculitis started to affect other parts of my body, I had chronic renal failure, and was admitted to Birmingham hospital.
About a year later I was critically ill for 2 nights with a infection from my kidneys, ever since then, I have been having many hospital stays for months at a time. Over the last few years I've become more reliant on my wheelchair as my arms hurt too much to use my crutches anymore. I see a psychiatrist for my depression and I've now been told I have fibromyalgia as well. I have gall stones which cause me pain, but the operation to remove the gall bladder is not easy to do because of my medication and other illnesses.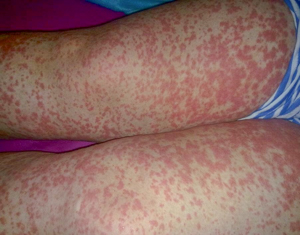 My psychiatrist said when I'm not in as much pain maybe I could do something for charity, because I love helping others, so I decided to make pet toys, because last year my Mum and Dad brought me a little tiny Shihpoo called Tillypop. She helps me with most things from taking my socks off to opening me doors or even covering me up in bed, She's like my second carer and helps me by giving me the confidence to go out with her by my side, so I wanted to make her a few toys. It was then I thought of making them to sell and donate the money to Vasculitis UK.
My Mum has become my full time carer and helps me with things Tillypop doesn't. My Mum has been there with me, through it all, every test, every scan, and every visit to and in Hospital. With my mum's support and help from Tillypop, I'm where I am today with my "Tillypops". I am doing so well with selling the toys and raising awareness of vasculitis.
I can't do many toys at a time, but I rest my hands and do a few more when I can, my family help as well, as I don't want to let people down, I just want to do what I can for Vasculitis UK
This illness is a very depressing, painful illness, it hurts me so much that there are not enough people understand it, my life isn't my own I have to rely on so many people to help me, I don't leave the house, unless it's to go to hospital, it's a lonely life, I can't even make a cup of tea for myself, as I lose the use of my hands and legs without warning, I'm not doing any of this for myself it's for vasculitis awareness, there are so many people out there that need help and they have nowhere to go. John and Susan have always been a brilliant help and support all the way too.
Before the vasculitis I did manage to work even with the everyday pain of arthritis, and also went out with friends and visited family, but now it's all been taken away, by this horrible illness, called Vasculitis. But I'm slowing getting my life back I will not let this illness beat me!
Kyri Roebuck, Nottinghamshire – Tillypops Facebook Page