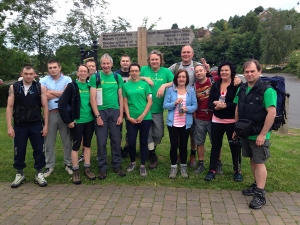 Martyn Wells is a vasculitis patient, he's 44 years old and he was diagnosed with Polyarteritis Nodosa (PAN) in 2012.
In early 2013 he decided that he would organise a group of friends and family to join him in undertaking the Worcester Way Walk to raise funds for Vasculitis UK.
The organisation alone was a marathon task, but to undertake the walk was an even greater achievement. It was 31 miles and climbs of over 1000 meters.
Now that Martyn has recovered he has written a report on the day (29th June 2013) when the 14 set out from Bewdley.
If the link doesn't work for you, you may need to load or update Adobe Reader
Alternatively try RIGHT clicking on the link and saving the document, or "open in new tab". This should allow you to view it in Adobe Reader. If all else fails we will be happy to send you a PDF of Martyn's story – e-mail: John Mills
You may also like to see the Individual Disease page on Polyarteritis Nodosa